Kelley Denison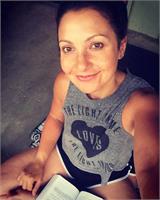 Known for her friendly nature and open heart, Kelley began studying mind, body and spirit when she was 3 years old. Her training began in the ballet studio under her teacher and grandmother; the brilliant and inspiring Lareen Fender. She quickly became fascinated with body mechanics and continued to study ballet into her early twenties. She began teaching ballet in 1995 and is currently teaching at The Ballet School of Performing Arts in Walnut Creek. Kelley began her Pilates studies in 2003 and went through Balanced Body University's Comprehensive Teacher Training in 2010. She has been teaching private and group pilates since 2010 and is the proud owner of ZO Studio, a boutique mindful living studio located in Walnut Creek. Kelley is also an avid student of life and chooses to practice Yoga daily. In 2016, Kelley completed her 200 hour Yoga Teacher Training through Just Be Yoga in Walnut Creek. Kelley currently teaches Yoga at Just Be Yoga and is extremely thankful to Jenni Wendell for offering her opportunities to connect with community. Kelley is inspired by living a life in service. Kelley began studying Kundalini Yoga under Kelly Black in 2016. She quickly realized that she had met her next inspiring teacher. Kelley continues to study under Kelly Black and is thrilled to be invited to teach at Indigo Yoga and Pilates. This is a dream come true to join Kelly and Eric Black and connect with this loving community. She is SO excited to meet you. Her favorite quote is by Gandhi and chooses to live her life in this way, and hopes to inspire others to do the same. "Be the change you wish to see in the world." She hopes to meet you soon.
Kelley Denison instructs the following:
Note: Your Group Reformer Class is located at 1564 Palos Verdes Mall in our Pilates studio. If you are new to Pilates and/or new to Indigo, please contact us at

info@myindigoyoga.com

prior to signing up for your first group. Basic knowledge of Pilates equipment technique (with recent experience) and/or a minimum of 3 private sessions are required for group participation.

Group Reformer Classes can be fun and social, intensely rigorous, or deeply relaxing—usually all of the above. Because Indigo class sizes are small—no more than 6 students—you'll receive quality instruction tailored to your body's needs.

Our groups are open level; however, once we know your particular needs and preferences, we can recommend those groups that will fit you best.

Reservation required.