Theresa Adamo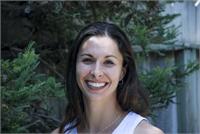 Theresa Adamo has been teaching yoga for over 5 years in Southern California and in the Bay Area. With an M.A. in Philosophy, Cosmology, and Consciousness from CIIS, Theresa has researched the benefits of meditation and mindfulness.
She received her 200hrs with Jason Crandell in San Francisco, whose training is on Smart Vinyasa Flow, emphasizing bio-mechanical precision. She then obtained her 500hr certification with True Nature School of Yoga, learning the healing properties of Yoga Nidra. She is certified in Mindful Resilience for Trauma Recovery, which has enhanced her work with Veterans and those with chronic movement disorders. She encourages her students to broaden their awareness and see the interconnectedness of their life, mind, and body. Theresa's dynamic academic and yogic background gives her a unique perspective and teaching style that is well grounded and approachable. Her students have described her as a quiet, yet powerful leader whose serene voice helps call forth a peaceful connection between the mind and body.
Theresa Adamo instructs the following:
Vinyasa is a fluid sequence of poses, where breath and body move together as one in a physically intense practice that builds heat, endurance, strength and flexibility in equal measure. Students will flow through seated and standing poses, twists, balance poses and inversions when appropriate.

Indigo instructors are highly skilled in keeping students aligned and safe. We specialize in bringing a heart-centered, meditative focus and intention to this more vigorous style of Yoga.

Familiarity with standard Hatha postures is highly recommended.