Nicole Noceto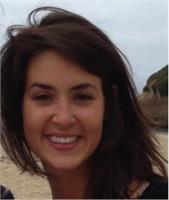 My gradual emergence in Yoga began in my teenage years, when I discovered the subtle power of this practice to truly transform my life experience. With each yoga class, regardless of what style, I was led to discovering and understanding a different piece of myself. What I love so much about practicing yoga is having this tool through any phase of life to keep perpetuating self-discovery and transformation. Ultimately completing my 200-hour Gentle Yoga teacher training has been one of the most rewarding endeavors of my life. I am ecstatic to be able to share my knowledge of therapeutic yoga, particularly through Yin and Restorative styles, to help others use yoga as a vehicle to enrich their lives. In addition to being a lifelong student of yoga, I am a passionate student of Traditional Chinese Medicine, currently in pursuit of my Master's Degree. When short reprieves from my studies allow, my happy place is watching the San Francisco Giants, cooking at home, or being outside with Nature.
Nicole Noceto instructs the following:
This deeply relaxing and restful class will use therapeutic yoga poses done primarily on the floor with the support of props. Designed to nurture, nourish and rejuvenate the whole person, this class will be accompanied by music, inspirational readings and therapeutic touch.