Caleb Neeper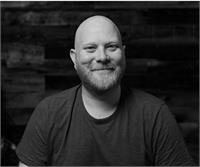 Caleb's first taste of yoga came a little over a decade ago. Playing in a pick-up basketball game, he severely sprained his left knee. The initial goal was to rehabilitate the knee through yoga. Slowly, over a consistent period of time, his body began to heal. The knee strengthened, and he also began to experience some additional, unintended positive side-effects from practicing yoga - weight loss, a gain in overall physical strength, increased range of motion, flexibility, and a general boost in self-confidence and mood.
His initial therapeutic goal became secondary, as he started to realize the deep and profound affects that practicing yoga was and is currently having on his life. He began to understand more about himself, his relationships to others and his place in the world. With this new-found clarity, he decided to switch careers from selling wine to teaching yoga! He relocated from Sonoma County back to the Bay Area in pursuit of this career change. Caleb has completed 500 hours of teacher training through YogaWorks in Walnut Creek and SF, and has been mentored by Lakshmi Norwood.
Caleb Neeper instructs the following:






This is a class designed for beginners. Learn correct alignment, setting up a posture or asana from the ground up. Coupled with this, you will learn to encourage one of the most powerful tools for a yoga practitioner, the breath! Hatha can be translated to ha meaning sun and tha meaning the moon. This refers to the balance of the masculine aspect (sun, active, hot) and feminine aspect (moon, receptive, cool) that resides in all of us. Balance is the key between strength and flexibility, the effort and the comfortable quality that is held in each and every yoga pose.