Rod Ciocho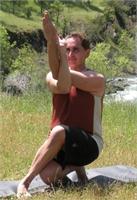 Rod Ciocho began his practice of Yoga to help with pain associated with scoliosis and muscular imbalance. He soon discovered how Yoga also helps to calm the mind, minimizing the worry and frustration that revolves around a chronic condition. Rod teaches from this perspective, giving students a practical, non-dogmatic, class that encourages them to develop their own awareness of the habitual patterns of the mind and body. He has studied various styles of Yoga and carefully integrates the most practical aspects to create a fun, interesting and effective class.
Rod Ciocho instructs the following:
This class is based on proper alignment, but more importantly, to wake up to the inner eye of awareness. To know where you are in space! Whether static or dynamic, we will move through each pose connecting mind and body via the breath to expand our awareness and energy (prana). All levels class. Appropriate for beginners to advanced practitioners.